For the 4th year in a row (having started this in 2020), we are having an emphasis on sharing the Gospel.  Our purpose is to advance the Gospel "for such a time as this."  Our world is in crisis. There is crime, extreme violence, the killing of innocent life, sexual perversion, family break-ups, pride, doing what's right in one's own eyes, etc.  The only answer to man's sin problem is Jesus Christ, so our purpose is to sow the seed of God's Word. This will be done through the giving out of evangelistic tracts and Invitation to Listen (ITL) cards.  These ITL cards will introduce others to this VCY Station where they will hear the Gospel.
Every month during 2023 we will send you:
(5) Evangelistic Tracts
(5) Invitation to Listen (ITL) cards (for the VCY Station you listen to)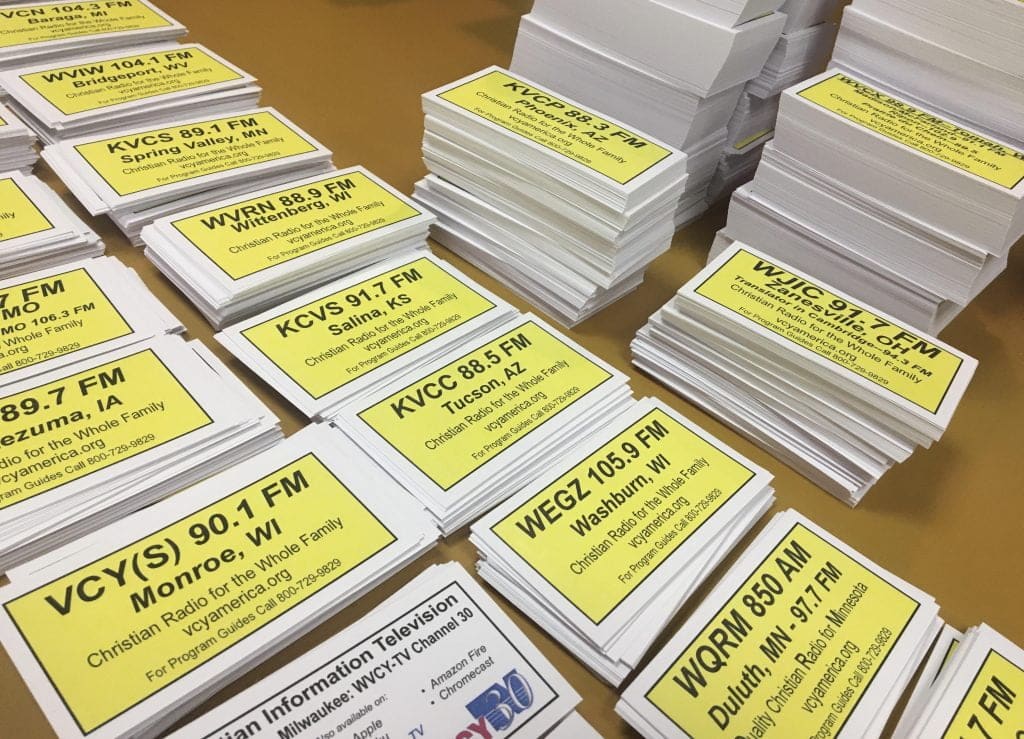 By signing up you are committing to monthly distribute these 5 evangelistic tracts with individuals who do not know the Lord and you will also share (5) ITL cards to people you know or meet. (By distributing the ITL cards you know they will hear the Gospel by listening to VCY.) Pray that God would open the door for you to distribute these Gospel witnesses.
Think of the people you come in contact with:
Unsaved family members
Co-workers
Neighbors
The people you meet as you conduct business in stores, service centers, restaurants, appointments, etc.
These will be mailed to you at no cost to you; it will only require your commitment. Sign up by phone or email with the following information: (This information will not be shared outside VCY.)   
Your first and last name
Your mailing address
The call letters of the VCY station you listen to
Your phone number in case we have any questions
Email:  outreach@vcyamerica.org 
Phone (414) 935-3000 or 1-800-729-9829
The Biblical Mandate
Matthew 5:13-16 – "Ye are the salt of the earth: but if the salt have lost his savour, wherewith shall it be salted? it is thenceforth good for nothing, but to be cast out, and to be trodden under foot of men. Ye are the light of the world. A city that is set on an hill cannot be hid. Neither do men light a candle, and put it under a bushel, but on a candlestick; and it giveth light unto all that are in the house. Let your light so shine before men, that they may see your good works, and glorify your Father which is in heaven.
Matthew 28:19-20 – "Go ye therefore, and teach all nations, baptizing them in the name of the Father, and of the Son, and of the Holy Ghost: Teaching them to observe all things whatsoever I have commanded you: and, lo, I am with you alway, even unto the end of the world. Amen."
Mark 16:15 – "And he said unto them, Go ye into all the world, and preach the gospel to every creature."
Luke 24: 46-49 – "And said unto them, Thus it is written, and thus it behoved Christ to suffer, and to rise from the dead the third day: And that repentance and remission of sins should be preached in his name among all nations, beginning at Jerusalem. And ye are witnesses of these things."
Acts 1:8 – "But ye shall receive power, after that the Holy Ghost is come upon you: and ye shall be witnesses unto me both in Jerusalem, and in all Judaea, and in Samaria, and unto the uttermost part of the earth."
Romans 10:14-15 – "How then shall they call on him in whom they have not believed? and how shall they believe in him of whom they have not heard? and how shall they hear without a preacher? And how shall they preach, except they be sent? as it is written, How beautiful are the feet of them that preach the gospel of peace, and bring glad tidings of good things."
II Corinthians 5:20 – "Now then we are ambassadors for Christ, as though God did beseech you by us: we pray you in Christ's stead, be ye reconciled to God."