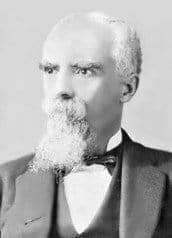 We'll be looking at excerpts from E.M. Bounds classic, Power Through Prayer as we go deeper into prayer. While Bounds is addressing himself to pastors, 1) use this to pray for your pastor, and 2) this applies to all who are in ministry, even if your field is "just" your family.
Let us often look at Brainerd in the woods of America pouring out his very soul before God for the perishing heathen without whose salvation nothing could make him happy. Prayer—secret fervent believing prayer—lies at the root of all personal godliness. A competent knowledge of the language where a missionary lives, a mild and winning temper, a heart given up to God in closet religion—these, these are the attainments which, more than all knowledge, or all other gifts, will fit us to become the instruments of God in the great work of human redemption.—

Carrey's Brotherhood, Serampore
It is impossible for the preacher to keep his spirit in harmony with the divine nature of his high calling without much prayer. That the preacher by dint of duty and laborious fidelity to the work and routine of the ministry can keep himself in trim and fitness is a serious mistake. Even sermon-making, incessant and taxing as an art, as a duty, as a work, or as a pleasure, will engross and harden, will estrange the heart, by neglect of prayer, from God. The scientist loses God in nature. The preacher may lose God in his sermon.
Prayer freshens the heart of the preacher, keeps it in tune with God and in sympathy with the people, lifts his ministry out of the chilly air of a profession, fructifies routine and moves every wheel with the facility and power of a divine unction.
Mr. Spurgeon says: "Of course the preacher is above all others distinguished as a man of prayer. He prays as an ordinary Christian, else he were a hypocrite. He prays more than ordinary Christians, else he were disqualified for the office he has undertaken. If you as ministers are not very prayerful, you are to be pitied. If you become lax in sacred devotion, not only will you need to be pitied but your people also, and the day cometh in which you shall be ashamed and confounded. All our libraries and studies are mere emptiness compared with our closets. Our seasons of fasting and prayer at the Tabernacle have been high days indeed; never has heaven's gate stood wider; never have our hearts been nearer the central Glory."
Excerpted from Bounds, E.M. Power Through Prayer.