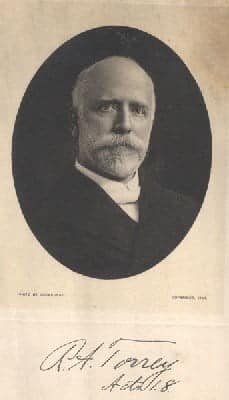 Reuben Archer Torrey (1856 – 1928) was an American evangelist and pastor. In 1915 he founded the Church of the Open Door in Los Angeles (later pastored by J. Vernon McGee). Torrey was the most famous editor of the 12-volume series, "The Fundamentals," a defense of Christianity against modernism. We'll be sharing some excerpts from his book, "How to Pray."
5. There is another reason for constant, persistent, sleepless, overcoming prayer that seems if possible even more forcible than this, namely, PRAYING IS THE MOST IMPORTANT PART OF THE PRESENT MINISTRY OF OUR RISEN LORD.
Christ's ministry did not close with His death. His atoning work was finished then, but when He rose and ascended to the right hand of the Father, He entered upon other work for us just as important in its place as His atoning work. It cannot be divorced from His atoning work; it rests upon that as its basis, but it is necessary to our complete salvation.
What that great present work is, by which He carries our salvation on to completeness, we read in Hebrews 7:25, "Wherefore He is able also to save them to the uttermost that come unto God by Him, seeing HE EVER LIVETH TO MAKE INTERCESSION FOR THEM." This verse tells us that Jesus is able to save us unto the uttermost, not merely FROM the uttermost, but UNTO the uttermost, unto entire completeness, absolute perfection, because He not merely died, but because He also "ever liveth." The verse also tells us for what purpose He now lives, "TO MAKE INTERCESSION FOR US," to pray. Praying is the principal thing He is doing in these days. It is by His prayers that He is saving us.
The same thought is found in Paul's remarkable, triumphant challenge in Romans 8:34—"Who is he that condemneth? It is Christ that died, yea rather, that is risen again, who is even at the right hand of God, who also maketh intercession for us."
If we then are to have fellowship with Jesus Christ in His present work, we must spend much time in prayer; we must give ourselves to earnest, constant, persistent, sleepless, overcoming prayer. I know of nothing that has so impressed me with a sense of the importance of praying at all seasons, being much and constantly in prayer, as the thought that that is the principal occupation at present of my risen Lord. I want to have fellowship with Him, and to that end I have asked the Father that whatever else He may make me, to make me at all events an intercessor, to make me a man who knows how to pray, and who spends much time in prayer.
This ministry of intercession is a glorious and a mighty ministry, and we can all have part in it. The man or the woman who is shut away from the public meeting by sickness can have part in it; the busy mother; the woman who has to take in washing for a living can have part—she can mingle prayers for the saints, and for her pastor, and for the unsaved, and for foreign missionaries, with the soap and water as she bends over the washtub, and not do the washing any more poorly on that account; the hard driven man of business can have part in it, praying as he hurries from duty to duty. But of course we must, if we would maintain this spirit of constant prayer, take time—and take plenty of it—when we shall shut ourselves up in the secret place alone with God for nothing but prayer.