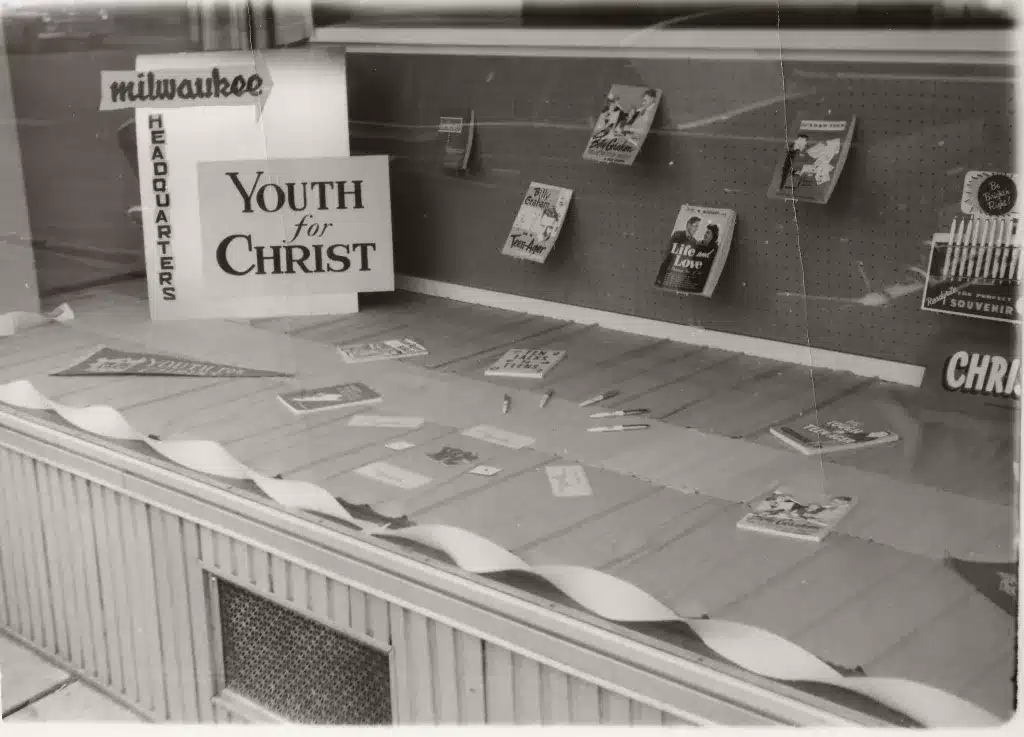 This Monday afternoon, Gordon Morris went home to be with the Lord.
"VCY America presents Crosstalk – a nationwide call-in program that discusses issues that have an effect on our families…." Each day at 2 PM CT Gordon Morris' voice introduces the flagship radio program of the VCY Radio network.
Several years ago I took Gordon out to lunch to talk about his memories of VCY in preparation for an anniversary book. After talking to me for a couple hours sharing his stories, he sent me an email with his memoirs. If you have the VCY 60th Anniversary Magazine (available for free by calling 800-729-9829), you have Gordon's account on p.65. If not – keep scrolling.
---
"Looking back over my life, I'm grateful that the Lord prompted me very early to be interested in broadcasting, and ultimately Christian broadcasting, which turned out to be the lifelong path he wanted me to take. At the tender age of about five years old, I did what many little boys probably did, and played radio station, complete with the "can-on-a-stick" microphone, record player, and an alarm clock! My father saw what I was doing, and complimented me on how well I played "radio station"! From that time on, but I wanted to own my own radio station, and had "pretend" stations wherever we lived! Later I learned that there was such thing as a Christian radio station, and that became my goal. From that point it was a direct line to going into Christian broadcasting, including producing Christian programs at Sterling College in Kansas, and then going on to graduate school in radio and television, at Syracuse University.
Meanwhile, while in high school at West Allis Nathan Hale, during my senior year 1959-1960, Vic Eliason became the club director for the Youth for Christ club that met near the school! Little did I know that I would be working with him for many years.
In 1961, when the first broadcast began on WBON, I was in college. But I heard about what was happening, and when I came home I would stop in at the Youth for Christ storefront offices at 2631 West State Street. There I would find Vic spinning records and doing live announcing. Quite often when I walked in, he would turn down the music, turn on the mic, say "we have a visitor in the studio", and would interview me on the air. That was the first time my voice was heard on what eventually became VCY America!
However, after finishing at Syracuse, I was no longer going to college, so my draft number came up. I decided to join the Navy, which gave me the opportunity to go to Officer Candidate School. But there was an eight month waiting period before I could go to Newport, Rhode Island. So for the first eight months of 1966, I worked for what was then Greater Milwaukee Youth for Christ, doing radio shifts, spinning records, announcing, and also producing a half hour program of "Great Sacred Music", broadcast on Sunday afternoon. I was also asked that same year to record the opening and closing announcements for "Sacred Stylings", and although the voice has gotten older, it is still introducing that program 54 years later!
Fast-forward: My last year in the Navy, 1969, I was assigned to the Ninth Naval District headquarters at Great Lakes, Illinois. That meant I could come home on the weekends—and work some weekend radio shifts at WBON! Then I came on full-time in 1970 after leaving active duty.
I remember many events, some of them milestones as the years went by. As the ministry grew, the organization's name changed to reflect that: first it was Greater Milwaukee Youth for Christ, then Wisconsin Voice of Christian Youth, and now VCY America!
After several years of broadcasting over the facilities of WBON, the owners of the station offered it for sale, and the Lord provided the financial support to purchase the station, which is now known as WVCY-FM. As time went on, we outgrew the small studios in the storefront YFC office, and were able to purchase—at a bargain price—a former bank building a few blocks away. The building was completely remodeled and the office and radio studio were moved into the much larger facility. (The master control room was in the former bank vault!) In 1975 we made the switch to stereo FM broadcasting. I also helped put together the FCC application for television, which was not granted for several years.
We discovered a fairly new, vacant building that originally had been built by a business college, but had languished on the real estate market for several years. God enabled VCY America to acquire that building at a fraction of its value. For many years it housed VCY Central, a K-12 Christian school. After the radio ministry had become a satellite network, and the school had merged with another Christian school, I was privileged to help move the radio studios to this much larger and very versatile building, where they and the VCY offices are located today.
Meanwhile, FCC approval finally came, and WVCY-TV was on the air 24-7. The former bank building is still in use as the TV studios.
The radio network continues to grow as satellite and Internet technology provide increased quality and capability, for much less cost than trying to run dozens of facilities independently!
And now not only radio and television, but also the Internet provides VCY America radio and television programming in real time, which can be heard and seen 24-7 anywhere in the world there is Internet access—even on Smart phones!
Some other highlights:
Using a former ambulance-turned satellite up-link truck, we originated live programming from many locations, including:
1. Saturday night rallies at the Waukesha Expo Center
2. A Voice of the Martyrs convention in Indianapolis
3. In 1992, from various activities in Milwaukee, including a rally of over 8000 people, as Missionaries to the Preborn protested the deaths taking place in multiple abortion facilities (that number has now dropped to two)
4. From St. Louis in 1993, to broadcast the plight of Christine Busalacchi who was eventually allowed to die despite medical evidence she was not comatose
5. Broadcast live from a "Hands Off God's Property" rally protesting a proposed Milwaukee ordinance to restrict new church construction to industrial parks
6. Remote broadcasts of Crosstalk from the National Religious Broadcasters' Convention and elsewhere
As technology changed, such broadcasts can now be done using the Internet at a fraction of the cost!
Other memorable opportunities that we could pursue:
1. For several years, when it was WVCY's turn to host all the local broadcasters to hear about community needs from various organizations, we had the opportunity to invite representatives from Christian organizations who could give their perspective to every station—including the secular stations, who needed to make decisions about public affairs programming.
2. Produced our own public affairs radio programming, recorded on location, that enabled Christian leaders to share their ministry and its needs with our listeners
3. Operated "Cross-reference News, which produced hourly 5-minute news updates sent by satellite to other stations. Special news updates are still labeled "Cross-reference News".
4. Recorded a performance of the Messiah at Hingham Reformed Church with large choir, chamber orchestra, and soloists, which was broadcast in stereo for many years.
5. Traveled with an evangelistic music group, the "Teen Life Singers" (later renamed the "New Life Singers" because some of us were far from being teens!), to prisons, military bases, and churches across the Midwest. We even made a record!
6. Broadcast "live" church services in Milwaukee, for many years from the Fundamental Bible Church on Sunday mornings, and then later, for several years, Sunday evening services from a different Gospel-preaching church each month.
7. Held (and continue to hold) Shareathons three times a year where we share the need, and listeners/viewers can share their promises of financial support, and their testimonies of how programs on VCY America have impacted them and their families. For many years the evening hours were simulcast on radio and television, with live musical guests in the studio.
8. Helped to operate, and then acquiring WSCO-TV14 in Suring, Wisconsin which was unable to support itself financially, but which for several years allowed us to broadcast on television across Northeast Wisconsin
9. When the required change to digital television came, WVCY-TV was just one of a handful of Christian television broadcasters that could afford to make the huge change, which essentially involved purchasing equipment, transmitter, and antenna for an entirely new station, while the previous station was still operating!
10. Today, doing remote broadcasts using the Internet instead of satellite, including VCY Rallies heard "live" on the network, programs and interviews originating at Trail Ridge Camp, and the daily live broadcast of Brannon Howse, Worldview Weekend Radio, originating in Memphis, Tennessee.
11. And many more experiences, too many remember or mention, and also innumerable co-workers over 60 years, again too many to remember or mention. Praise God He has provided the people needed, with the expertise and dedication to handle technical issues as well as keep programming on the air! We especially appreciate our Chief Engineer, Andy Eliason, and many local on-site engineer/operators or on-call engineers who are "on call" to deal with issues at our growing network of stations and translators!
Finally, on a personal note, looking back after more than 45 years in Christian broadcasting, most of them at VCY America, God gave me the opportunity to learn and use many different technologies—from monaural LP records, to stereo records, to reel-to reel-music tapes, to digital master music tapes, to taped automation systems, to completely digital automation systems! I helped program at least eight different automation systems over my time at VCY, starting with wires attached by clips, which we attached to different wires to select which machine to play, then one with knobs that could be turned to select the next source, followed by several professional automation systems! The first of these used a rack mounted computer with only a keypad (before PCs were invented), the second was run by an Apple IIe computer with a floppy disk that had to be changed every day, and then several systems used increasingly complicated methods to control reel-to-reel tapes, carousels full of short tape cartridges for announcements, and live sources. The latest system, which is now 25 years old, plays all the audio from digital files on the computer hard drive, with separate workstations playing the local and network schedules at the same time!
A new automation system that is currently under development, will be able to move even farther ahead in technical capabilities, allowing us to have local stations include some of their own programming, controlled from Milwaukee.
Other technology has kept changing also, starting with one radio station, WVCY-FM in Milwaukee, adding a second station, WVCX in Tomah, Wisconsin, which needed its own operator to run it. But then the door was opened for adding many more stations when a satellite begin to be used for transmitting programs from Milwaukee to all the stations simultaneously.
The amazing thing about all this, is that the Lord is able to use whatever he provides to reach people with the gospel! The word of God is going out, people are hearing it, and the Holy Spirit opens their hearts to receive that word and to believe. When we were spinning records, whoever was choosing the records could develop a theme during a half hour, in order to create music that would add to the same subject, like perhaps Psalm 23. However, now that automation systems are choosing from thousands of songs in a database, we still often discover that a sequence of music on the air sounds like it has been planned – and, in fact, it has been planned, not personally by a human being, but by God himself who is in control and can use not only people playing records or CD's, but also the songs selected by automation systems!
For me, the most satisfying aspects of working in Christian broadcasting are these:
1. To be able to put together a program, perhaps a special for a holiday, or a message edited for Crosstalk, develop a theme and create the program so that it comes out exactly on time, and when the music and words enhance each other to present a clear, biblical message, the program then becomes like an audio sermon.
2. To hear from people who have been blessed by the programming that is being sent out 24 hours a day. Some have been saved listening to VCY, including at least one pastor that I know of, who came to faith as a child by listening to Uncle Charlie! Others have found that a message, or a music selection, or even a whole program of music, has spoken to their specific need at that time.
God's word, He says, will not return void, but will accomplish the purpose for which He sends it. He chooses us to be his ambassadors, and then He provides us many ways to do the job. Some are called to preach, some are called to teach, some are called to go out and evangelize, some to the mission field here or around the world, and some get involved in specialized ministries, such as a Christian broadcasting. Many others pray, give, let others know about the station, or volunteer! We are all simply to be faithful in doing what He has called us to do. We trust Him for the results, and all the praise and glory go to Him!"
---
Matthew 25:21 "His Lord said unto him, Well done, thou good and faithful servant: thou hast been faithful over a few things, I will make thee ruler over many things: enter thou into the joy of thy Lord."