May 9
1 Samuel 5:1-7:17
John 6:1-21
Psalm 106:13-31
Proverbs 14:32-33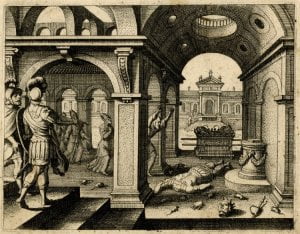 I Samuel 6:3 – The Philistine priests were wiser than the Israelite priests – they knew they had sinned and needed reconciliation.
I Samuel 6:6 – Apparently word got around about the Egyptians.
I Samuel 6:15 – Scholars have noted the differences between the Israelites and the Philistines in Beth-Shemesh by their diet.
I Samuel 7:12 – Have you raised an Ebenezer?
John 6:14-15 – After which miracle did they want to make him King? Not His baptism (John 1:32), identification as the Lamb of God (John 1:36), the cleansing of the temple (John 2:15), his dialogue on salvation with a leading Pharisee (John 3:36), confronting the Samaritan woman (John 4:39), Jesus theological dialogue with the Jews in Jerusalem (John 5:19-47), but only when they had a good meal (John 6:13). What did Jesus know about the crowd?…..
Psalm 106:13 – Just like Israelites of old, "they soon forgat his works" (re-iterated in Psalm 106:21). Yes the crowd that wanted to crown Him King would cry Crucify! (John 19:15).
Proverbs 14:32 – From the Pulpit Commentary:
even in the greatest danger the good man loses not his trust in God. It is like Job's word (if our reading is correct, Job 13:15), "Though he slay me, yet will I trust in him;" and the psalmist, "Though I walk through the valley of the shadow of death, I will fear no evil: for thou art with me; thy rod and thy staff they comfort me" (Psalm 23:4). Thus the Christian martyrs went joyfully to the stake, and gentle women and little children smiled on the sword which sent them home
Share how reading thru the Bible has been a blessing to you! E-mail us at 2018bible@vcyamerica.org or call and leave a message at 414-885-5370.