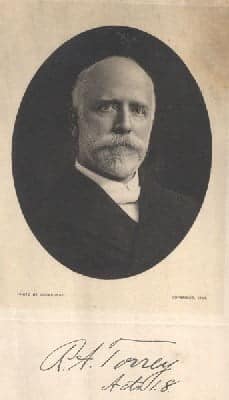 Reuben Archer Torrey (1856 – 1928) was an American evangelist and pastor. In 1915 he founded the Church of the Open Door in Los Angeles (later pastored by J. Vernon McGee). Torrey was the most famous editor of the 12-volume series, "The Fundamentals," a defense of Christianity against modernism. We'll be sharing some excerpts from his book, "How to Pray."
4. But there is a still weightier reason for this constant, persistent, sleepless, overcoming prayer. It is, PRAYER OCCUPIED A VERY PROMINENT PLACE AND PLAYED A VERY IMPORTANT PART IN THE EARTHLY LIFE OF OUR LORD.
Turn, for example, to Mark 1:35. We read, "And in the morning, rising up a great while before day, He went out, and departed into a solitary place, and there prayed." The preceding day had been a very busy and exciting one, but Jesus shortened the hours of needed sleep that He might arise early and give Himself to more sorely needed prayer.
Turn again to Luke 6:12, where we read, "And it came to pass in those days that He went out into a mountain to pray, and continued all night in prayer to God." Our Savior found it necessary on occasion to take a whole night for prayer.
The words "pray" and "prayer" are used at least twenty-five times in connection with our Lord in the brief record of His life in the four Gospels, and His praying is mentioned in places where the words are not used. Evidently prayer took much of the time and strength of Jesus, and a man or woman who does not spend much time in prayer, cannot properly be called a follower of Jesus Christ.