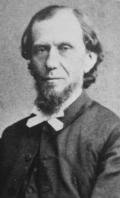 Andrew Murray (1828-1917) was the son of a Dutch missionary sent to South Africa. He ministered for 60 years in South Africa, praying that "May not a single moment of my life be spent outside the light, love, and joy of God's presence, and not a moment without the entire surrender of myself as a vessel for him to fill full of his Spirit and his love."
Let us look first at what ought to be the object of the morning watch. The morning watch must not be regarded as an end in itself. It is not sufficient that it gives us a blessed time for prayer and Bible study, and so brings us a certain measure of refreshment and help.
It is to serve as a means to an end. And that end is – to secure the presence of Christ for the whole day. Personal devotion to a friend or a pursuit means that that friend or pursuit shall always hold their place in the heart, even when other engagements occupy the attention. Personal devotion to Jesus means that we allow nothing to separate us for a moment. To abide in Him and His love, to be kept by Him and His grace, to be doing His will and pleasing Him – this cannot possibly be an intermittent thing to one who is truly devoted to Him.
"I need Thee every hour," "Moment by moment I am kept in His love." These hymns are the language of life and truth. "In Thy name shall they rejoice all the day," "I the Lord do keep it; I will water it every moment" – these are words of Divine power.
The believer cannot stand for one moment without Christ. The personal devotion to Him refuses to be content with anything less than to abide always in His love and His will. Nothing less is the true scriptural Christian life. And the importance and blessedness and true aim of the morning watch can only be seen as nothing less than this as its first object.
The clearer the object of our pursuit is, the better we shall be able to adapt the means to its attainment. Consider the morning watch now as the means to this great end: I want to secure absolutely the presence of Christ all the day, to do nothing that can interfere with it. I feel at once that my success for the day will depend upon the clearness and the strength of the faith that seeks and finds and holds HIM in the closet. Meditation and prayer and the Word will all be used as subordinate and auxiliary to this: the link for the day between Christ and me must be renewed and firmly fastened in the morning hour.
From The Inner Chamber and The Inner Life, by Andrew Murray.