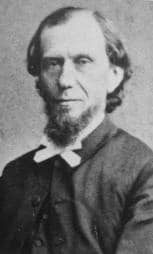 Andrew Murray (1828-1917) was the son of a Dutch missionary sent to South Africa. He ministered for 60 years in South Africa, praying that "May not a single moment of my life be spent outside the light, love, and joy of God's presence, and not a moment without the entire surrender of myself as a vessel for him to fill full of his Spirit and his love."
In regard to the connection between prayer and the Word in our private devotion, the expression of a convert from heathenism has often been quoted: I pray, I speak to God; I read in the Bible, God speaks to me.
There is a verse in the history of Moses, in which this thought is beautifully brought out.
When Moses was gone into the tabernacle to speak with God, then he heard the Voice of One speaking to him from off the mercy seat: and God spake unto him.

Numbers 7:89
When he went into pray for himself or his people, and to wait for instructions, he found One waiting for him. What a lesson for our morning watch. A prayerful spirit is the spirit to which God will speak. A prayerful spirit will be a listening spirit waiting to hear what God says. In the intercourse with God His presence and the part He takes must be as real as my own. We want to ask what is needed that our Scripture reading and praying may be such true fellowship with God.
First, get into the right place. "Moses went into the tabernacle to speak with God." He separated himself from the people, and went where he could be with God alone. He went to the place where God was to be found. Jesus has told us where that place is. He calls us to enter into our closet, and shut the door, and pray to our Father which seeth in secret.
Anywhere where we really are alone with God may be to us the secret of His presence. To speak with God needs separation from all else. It needs a heart intently set upon and in full expectation of meeting God personally, and having direct dealings with Him. Those who go there to speak to God, will hear the Voice of One speaking to them.
From The Inner Chamber and The Inner Life, by Andrew Murray.