We're continuing in our series of praying while singing, part 4! Jehoshapahat isn't someone we hear from regularly – but he went to battle with an interesting advance team….
[1] It came to pass after this also, that the children of Moab, and the children of Ammon, and with them other beside the Ammonites, came against Jehoshaphat to battle.

2 Chronicles 20:1
We see others in the Bible like Asa and Hezekiah, who when confronted with enemies, went to the temple to 'borrow' gold to buy a victory. Jehoshaphat instead turns to God.
[3] And Jehoshaphat feared, and set himself to seek the LORD, and proclaimed a fast throughout all Judah.

2 Chronicles 20:3
Jehoshaphat prayed claiming God's attributes:
[6] And said, O LORD God of our fathers, art not thou God in heaven? and rulest not thou over all the kingdoms of the heathen? and in thine hand is there not power and might, so that none is able to withstand thee?

2 Chronicles 20:6
God answered their prayer for victory with a seemingly crazy response:
[17] Ye shall not need to fight in this battle: set yourselves, stand ye still, and see the salvation of the LORD with you, O Judah and Jerusalem: fear not, nor be dismayed; to morrow go out against them: for the LORD will be with you.

2 Chronicles 20:17
Whoever heard of an army standing still? Would Jehoshaphat listen to this order?
[20] And they rose early in the morning, and went forth into the wilderness of Tekoa: and as they went forth, Jehoshaphat stood and said, Hear me, O Judah, and ye inhabitants of Jerusalem; Believe in the LORD your God, so shall ye be established; believe his prophets, so shall ye prosper.

2 Chronicles 20:20
Jehoshaphat called the nation to trust in the Lord! Then he did something amazing:
[21] And when he had consulted with the people, he appointed singers unto the LORD, and that should praise the beauty of holiness, as they went out before the army, and to say, Praise the LORD; for his mercy endureth for ever.

2 Chronicles 20:21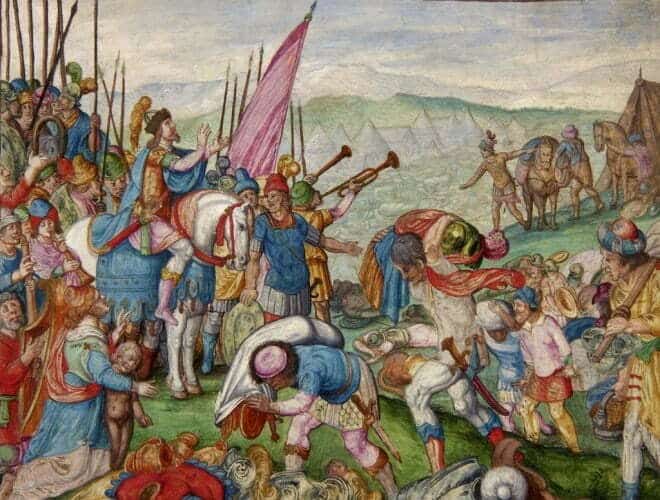 God delivered His people as they proclaimed their faith in Him thru song! We can sing His victories as well – that is claimed thru Faith!
Encamped along the hills of light,
Ye Christian soldiers, rise
And press the battle ere the night
Shall veil the glowing skies.
Against the foe in vales below
Let all our strength be hurled;
Faith is the victory, we know,
That overcomes the world.
Chorus:
Faith is the victory! (Faith is the victory!)
Faith is the victory! (Faith is the victory!)
Oh, glorious victory
That overcomes the world.
2 His banner over us is love,
Our sword the Word of God;
We tread the road the saints above
With shouts of triumph trod.
By faith they, like a whirlwind's breath,
Swept on o'er every field;
The faith by which they conquered death
Is still our shining shield.
3 To him who overcomes the foe
White raiment shall be giv'n;
Before the angels he shall know
His name confessed in heav'n
Then onward from the hills of light,
Our hearts with love aflame;
We'll vanquish all the hosts of night
In Jesus' conquering name.