We're on the 10th segment of the hour of prayer – and let's look at Meditation.
Did you know? There's only one verse in the entire Bible that uses the word 'success' – and it gives the secret for success!
This book of the law shall not depart out of thy mouth; but thou shalt meditate therein day and night, that thou mayest observe to do according to all that is written therein: for then thou shalt make thy way prosperous, and then thou shalt have good success.

Joshua 1:8
How do we meditate on Scripture? Even harder – how do we meditate day and night?
Living in the "Information Age" we can quickly parse the words back into Hebrew with a free online interlinear Bible such as BibleHub: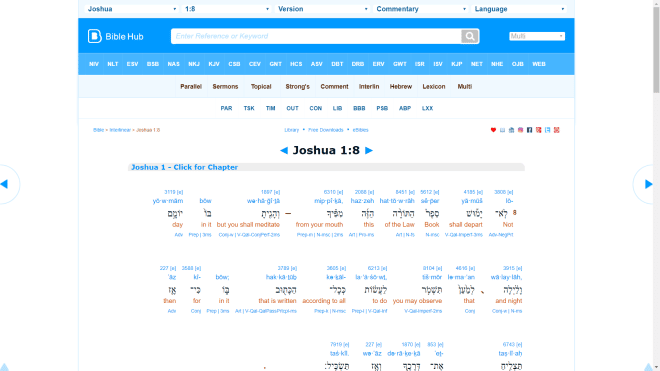 When we click on the Hebrew word transliterated We-ha-gi-ta, it takes us to the Englishman's Concordance that shows us where this is used elsewhere in the Bible: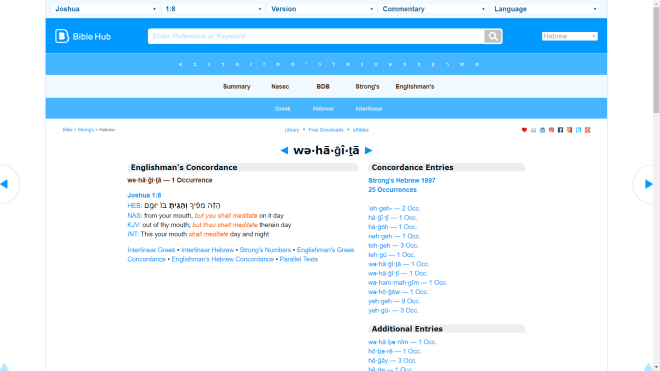 We see this form of the word is used once, but Strong's has the root "hagah" used throughout the Old Testament. Click the "25 Occurrences" to see where this concept is used: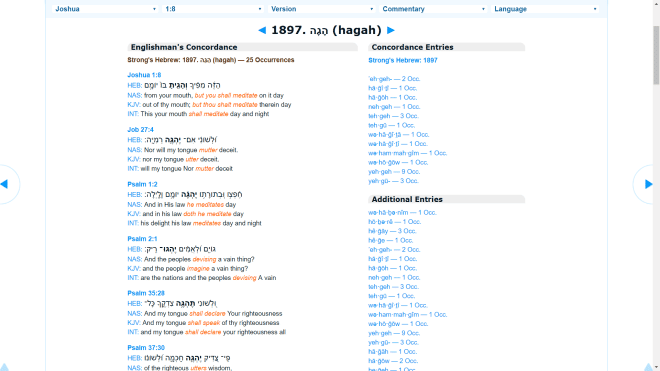 The same Hebrew root word is translated "utter," "imagine," "speak," "meditate," "study," "mutter," "mourn," and "roar."
Can we study, meditate, imagine, and mourn over the Bible? Do we utter, speak, mutter, and roar over it?
David Guzik notes that the Word is in his lips, mind, and hand (Joshua 1:8).
Matthew Poole notes: Meditate therein, i.e. diligently study, and frequently and upon all occasions consider what is God's will and thy duty. The greatness of thy place and employments shall not hinder thee from this work, because this is the only rule of all thy private actions and public administrations.
Whedon notes: Shall meditate — The Hebrew word הגה, sometimes means to mutter, speak aloud, but "we are not to think of this meditation as a learned study, nor as a 'reading aloud,' as Bunsen explains it, but rather as a mature reflection upon the law, by which Joshua should penetrate more deeply into its meaning." — Fay. Happy is the nation of Bible readers ruled by one who receives the law at the mouth of God!
Keil & Delitzch: ". . . [Meditation] does not mean theoretical speculation about the law, such as the Pharisees indulged in, but a practical study of the law, for the purpose of observing it in thought and action, or carrying it out with the heart, the mouth, and the hand. Such a mode of employing it would be sure to be followed by blessings."
Let's pray and ask God to help us ponder, study, observe, mutter, reflect, penetrate, consider His Word!