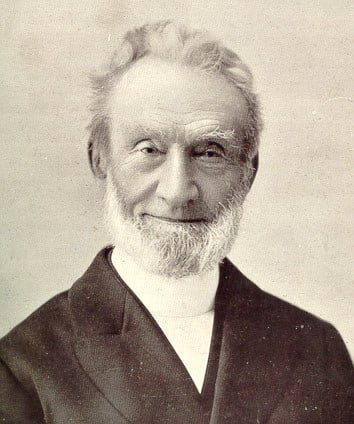 "In November, 1856, a young Irishman, Mr. James McQuilkin, was brought to the knowledge of the Lord. Soon after his conversion he saw my Narrative advertised, viz.: the first two volumes of this book. He had a great desire to read it, and procured it accordingly, about January, 1857.
God blessed it greatly to his soul, especially in showing to him, what could be obtained by prayer. He said to himself something like this: 'See what Mr. Müller obtains simply by prayer. Thus I may obtain blessing by prayer.'
He now set himself to pray, that the Lord would give him a spiritual companion, one who knew the Lord. Soon after he became acquainted with a young man who was a believer. These two began a prayer-meeting in one of the Sunday Schools in the parish of Connor. Having his prayer answered in obtaining a spiritual companion, Mr. James McQuilkin asked the Lord to lead him to become acquainted with some more of His hidden ones. Soon after the Lord gave him two more young men, who were believers previously, as far as he could judge.
In Autumn, 1857, Mr. James McQuilkin stated to these three young men, given him in answer to believing prayer, what blessing he had derived from my Narrative, how it had led him to see the power of believing prayer; and he proposed that they should meet for prayer to seek the Lord's blessing upon their various labours in the Sunday Schools, prayer-meetings, and preaching of the Gospel. Accordingly in Autumn, 1857, these four young men met together for prayer in a small school-house near the village of Kells, in the parish of Connor, every Friday evening.
By this time the great and mighty working of the Spirit, in 1857, in the United States, had become known, and Mr. James McQuilkin said to himself, 'Why may not we have such a blessed work here, seeing that God did such great things for Mr. Müller, simply in answer to prayer.' On January 1, 1858, the Lord gave them the first remarkable answer to prayer in the conversion of a farm servant. He was taken into the number, and thus there were five who gave themselves to prayer. Shortly after, another young man, about 20 years old, was converted; there were now six.
This greatly encouraged the other three who first had met with Mr. James McQuilkin. Others now were converted, who were also taken into the number; but only believers were admitted to these fellowship meetings, in which they read, prayed, and offered to each other a few thoughts from the Scriptures. These meetings and others for the preaching of the Gospel were held in the parish of Connor, Antrim, Ireland. Up to this time all was going on most quietly, though many souls were converted, There were no physical prostrations, as afterwards.
"About Christmas, 1858, a young man, from Ahoghill, who had come to live at Connor, and who had been converted through this little company of believers, went to see his friends at Ahoghill, and spoke to them about their own souls, and the work of God at Connor. His friends desired to see some of these converts. Accordingly Mr. James McQuilkin, with two of the first who met for prayer, went on February 2, 1859, and held a meeting at Ahoghill in one of the Presbyterian Churches. Some believed, some mocked, and others thought there was a great deal of presumption in these young converts; yet many wished to have another meeting.
This was held by the same three young men on February 16th, 1859; and now the Spirit of God began to work, and to work mightily. Souls were converted, and from that time conversions multiplied rapidly. Some of these converts went to other places, and carried the spiritual fire, so to speak, with them. The blessed work of the spirit of God spread in many places.—On April 5th, 1859, Mr. James McQuilkin went to Ballymena, held a meeting there in one of the Presbyterian Churches; and on April 11th held another meeting in another of the Presbyterian churches. Several were convinced of sin and the work of the Spirit of God went forward in Ballymena.
On May 28th, 1859, he went to Belfast. During the first week there were meetings held in five different Presbyterian Churches, and from that time the blessed work commenced at Belfast. In all these visits he was accompanied and helped by Mr. Jeremiah Meneely, one of the three young men who first met with him, after the reading of my Narrative. From this time the work of the Holy Ghost spread further and further; for the young converts were used by the Lord to carry the truth from one place to another.
"Such was the beginning of that mighty work of the Holy Spirit, which has led to the conversion of hundreds of thousands; for some of my readers will remember how in 1859 this fire was kindled in England, Wales and Scotland; how it spread through Ireland, England, Wales and Scotland; how the Continent of Europe was more or less partaking of this mighty working of the Holy Spirit; how it led thousands to give themselves to the work of Evangelists; and how up to the year 1874 not only the effects of this work, first begun in Ireland, are felt, but that still more or less this blessed work is going on in Europe generally. It is almost needless to add, that in no degree the honour is due to the instruments, but to the Holy Spirit alone; yet these facts are stated, in order that it may be seen, what delight God has in answering abundantly the believing prayer of His children."